Farm Sarava
Kiki Sarava
Lagadas Thessaloniki
---
The Farm dates back to 1983 and is situated in the Kardyllia Mountains at an altitude of 750 m. In the village of Stephanina in the municipality of Volvi. In 2005, Mrs. Saravas returned to her place of origin and, taking advantage of her studies at the American Farm School and the Animal Production Department, took over as her father the management of the Farm, which then had 50 sows, and succeeded in increasing them through Its inclusion in the "organic livestock farming" program in 2006 and 2013 in the program "Conservation of threatened indigenous breeds".
The unit numbers 130 sows. Of these, 100 are of the indigenous breed of the black pig, and 30 of the half-breed wild boar. Due to extensive breeding and breeding, the annual production capacity of the plant in their derivatives ranges from 550 to 750 for disposal.
They live mainly in the natural environment, from which they receive the elements they need for their development (iron, zinc, magnesium, fluoride, etc.). Specifically, they feed on common fruits, wheat, maize, clover, from producers in the area of Volissos and Serres, and with acorns and grass of the pastures where they grow.
Studies from the Aristotle University of Thessaloniki show that the fat of these pigs is rich in ω3 fatty acids and is one of the healthiest animal fats.
Mrs. Saravas points out that the Greek black pig meat is enjoying great demand, especially at Christmas, when it is mainly marketed. The aim of the Farm is to achieve the product's disposal throughout the year, while at the same time reducing the price by applying appropriate nutrition and management to the unit.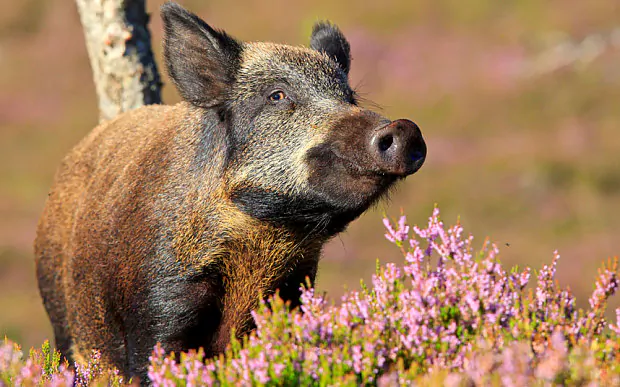 Services
Black pig farm

Playing black pigs

Breeding of wild boar

Farm indigenous breed

Organic farming
---
Stefanina - Volvi, Lagadas 57021 / Thessaloniki
Phone:6974007904